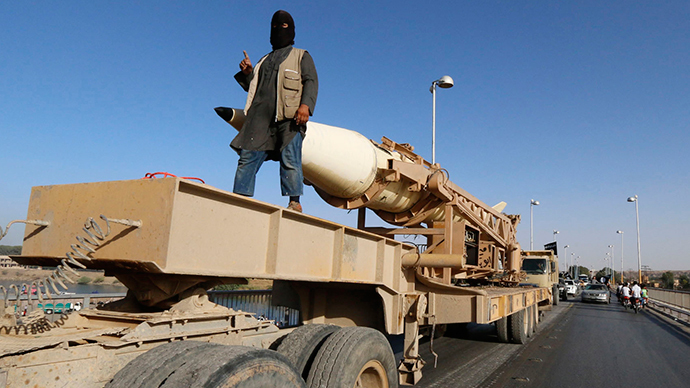 A militant Islamist fighter gestures as he takes part in a military parade along the streets of Syria's northern Raqqa province (Reuters)
Islamic State militants have carried out atrocities on "an unimaginable scale" over several months of fighting in Iraq, a UN official said in an emergency debate Monday. The UN agreed to send a commission to the country to investigate.
The UN Deputy High Commissioner for Human Rights, Flavia Pansieri, who opened the debate in Geneva, said there is "strong evidence" that Islamic State (IS), formerly known as ISIS, groups have carried out numerous atrocities including killings, beheadings, torture, sexual abuse and conversions.
"The reports we have received reveal acts of inhumanity on an unimaginable scale. Systematic and intentional attacks on civilians may constitute war crimes and crimes against humanity. Individuals, including commanders, are responsible for these acts," she said.
Pansieri added that she was particularly concerned with the persecution of Iraq's religious minorities including the Shia, Yazidis, Christians and Turkmen.
"These communities have lived side by side, on the same soil, for centuries and in some cases for millennia," she said, adding that IS has carried out ethnic and religious cleaning.
<img src="http://rt.com/files/news/2d/01/00/00/yazidis.jpg" alt="Displaced people from the minority Yazidi sect who fled the …read more